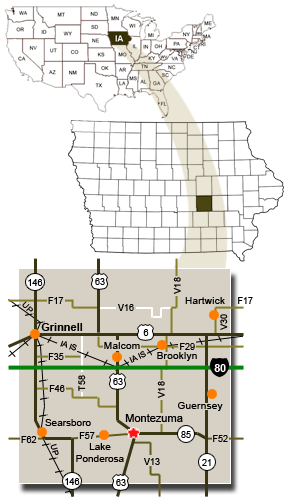 Who is Poweshiek Iowa Development?
Poweshiek Iowa Development (Pow I-80) is a countrywide economic development organization established in 2004 by the officials from Poweshiek County, the incorporated cities, and leaders of local business and industry. Poweshiek Iowa Development spawned from Poweshiek Area Development or PAD that was operational from 1983 through 2004.
Poweshiek Iowa Development is over 85 shareholders strong and includes the support of all seven incorporated cities (Brooklyn, Deep River, Hartwick, Grinnell, Guernsey, Malcom, and Montzuma) and Poweshiek County. Funding is provided by local business, industry, and government.
Poweshiek Iowa Development Services:
Poweshiek Iowa Development provides a variety of services and resources that support job-creating, wealth-generating economic development projects in our communities and county. Poweshiek Iowa Development offers comprehensive assistance to businesses at every stage of development and growth, whether just starting up, expanding or relocating to Poweshiek County; our services are designed to streamline doing business in Poweshiek County.
Poweshiek Iowa Development services businesses in the following categories:
| | |
| --- | --- |
| Advanced Manufacturing | Office and Professional Services |
| Agribusiness | Plastics Processing |
| Biosciences | Renewable Energy |
| Construction | Restaurant (outside of Grinnell) |
| Corporate Relocation | Retail (outside of Grinnell) |
| Financial Services | Transportation/Logistics |
| Food Manufacturing and Distribution | Wholesale |
| Information Technology | |
Click here for a complete listing of Poweshiek Iowa Development Services.
Click here for a copy of our 2013-2014 Annual Report.
Click here for a copy of our 2012-2013 Annual Report.
For more information on becoming a shareholder of Poweshiek Iowa Development call (641) 236-1626 or e-mail laura@powi80.com.

Poweshiek Leadership Program
August 13, 2015
Registration is open to participate in the 2015-2016 Poweshiek Leadership Program. Space is limited, so register today.
A Successful Career Discovery Day
January 22, 2015
On Thursday, January 22, POW I-80, Elevate Iowa, the Iowa Transportation Museum, and Iowa Valley Community College joined forces to ...