Contact:

Jessica Menary

Phone:

6412361626

Address:

Grinnell, IA
Date:

March 24, 2020 (5:00pm - 8:00pm)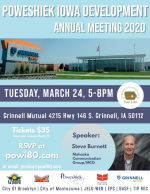 Postponed until later date, TBD 2020
Location TBD

5-8pm

Following dinner, Pow I-80 will provide a brief update and elect board members. The keynote speaker for the evening will be Steve Burnett of Mahaska Communication Group/MCG speaking on the importance of connecting rural communities with fiber and provide an update on initiatives going on in the Montezuma and Grinnell Communities.

The cost of the event is $35 before TBD, you may still RSVP.

Feel free to contact Jessica at jessica@powi80.com with questions.