BGM Schools

Contact:

1090 Jackson Street




Brooklyn, IA 52211

Phone:

(641) 522-7058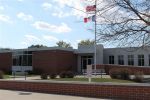 The BGM School District encompasses approximately 141 square miles within the rural communities of Brooklyn, Guernsey and Malcom. Enrollment is approximately 675 students, 52 teachers, an activity director and 29 support staff.

BGM Community Schools is a progressive district willing to make significant investments. The high school completed a $1 million rehabilitation and modernization in 2004. That came shortly after the construction of a new $5.8 million elementary school in 2002.

The new elementary school contains 28 classrooms, a media center, music and art rooms, two computer labs, a long-distance-learning classroom, a gymnasium and a large multi-purpose area.

A non-profit Citizen Scholarship Foundation (CSF) gives each graduate a chance for a higher education. The foundation offers scholarships to graduating seniors, as well as loans to older BGM graduates and mini-grants to district teachers who try new ideas.
Central Iowa Christian School

Contact:

201 380th Ave.




Grinnell, IA 50112

Phone:

(641) 236-3000




At Central Iowa Christian School, we see our role as one of support for families. The school compliments what is taught at home and at church; CICS is NOT a replacement for either.

We believe that all students should have the opportunity to be educated to the fullest extent of their abilities, aptitudes, and interests through a program that recognizes and celebrates their individual differences.

Grinnell College

Contact:

1115 8th Ave




Grinnell, IA 50112

Phone:

(641) 269-4000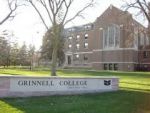 Founded in 1846, Grinnell College is an undergraduate, private, four-year, coeducational residential college that seeks to develop in students both analytical and imaginative thinking in the liberal arts. The College's primary mission is to provide students with a broad, deep, and life-enhancing education that fosters professional success, personal growth, and social responsibility.

Grinnell offers an exceptional, rigorous, comprehensive, and opportunity-rich educational experience that has, at its heart, one-on-one interactions of students, faculty, alumni, and staff. As a result, Grinnell College is consistently ranked among the top selective liberal arts colleges in the United States. Additionally, it ranks in the top ten among all colleges and universities in endowment resources per student and the top twenty in alumni gifts per student. Its 1,400 students come from all 50 states and 55 foreign countries.

Full time employees: ~680
Grinnell Schools

Contact:

1333 Sunset St.




Grinnell, IA 50112

Phone:

(641) 236-2720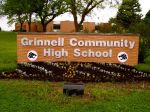 The Grinnell-Newburg School District covers 219 square miles, including the cities of Grinnell, Newburg and Oakland Acres. The enrollment is 1,750 in pre-kindergarten through 12th grade.

The district's philosophy is to establish a school-wide educational environment that provides the best possible learning for each student every day. Elementary grades are served by two primary buildings and one intermediate grade building (3-4). Grinnell Middle School serves grades 5-8 and Grinnell High School serves grades 9-12. The district has 150 professional and 120 support staff.

Currently under construction at the high school are a 1,700-seat gymnasium and a 700-auditorium with an orchestra pit and fly system for theatrical performances.
Iowa State University

Contact:

Admissions




100 Enrollment Services Center




Ames, IA 50011

Phone:

(800) 262-3810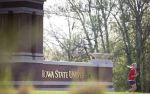 Iowa State is an international university with a friendly welcoming personality. Students from all 50 states and more than 100 countries come to Ames, Iowa, to choose from 100 majors, study with world-class scholars and hone their leadership skills in 800-plus student organizations. Iowa State offers a great environment where students can enjoy reaching their potential and discovering their passions.
Iowa Valley Community College

Contact:

3702 South Center Street




Marshalltown, IA 50158

Phone:

(641) 236-0513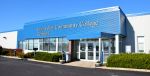 Housed in a newly-renovated facility, Iowa Valley Community College's Grinnell campus serves the residents of Poweshiek County and surrounding areas by offering college credit programs through Marshalltown Community College and Ellsworth Community College, adult and continuing education courses and services through Iowa Valley Continuing Education, and business/industry training and retraining through the Iowa Valley Business Assistance Center.

IVCCD serves its students by offering distinctive educational programs and support services in a stimulating environment. It accommodates different learning styles, values the diversity in their midst, and is committed to helping students achieve their goals.
Montezuma Schools

Contact:

504 N. 4th Street




Montezuma, IA 50171

Phone:

(641) 623-5121




Fax:

(641) 623-5733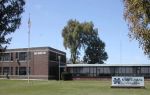 The Montezuma School District mission is to help all students learn the skills and acquire the knowledge necessary for them to reach their full potential as citizens who can meet the challenges of our changing society.

Located on a 35-plus acre campus at the north edge of the city are kindergarten, elementary, junior and senior high schools, parking lots, playground area, lighted athletic fields and running track. The school provides a well-rounded academic program that reflects Iowa's reputation for education excellence. In addition, it has an outstanding extra-curricular program including award-winning music and championship caliber athletics for both boys and girls. It is among the leaders in Iowa in Advanced Placement testing, an FFA Business Management National Champion in consecutive years, and has sent four graduates to US Military Academies during the past 13 years. At the same time, a local scholarship fund has allowed 15 Montezuma graduates to attend Grinnell College since 1998. Eight have already earned their bachelor's degrees, while seven others are currently enrolled.
University of Iowa

Contact:

5 W Jefferson St.




Iowa City, IA 52242

Phone:

(319) 335-3500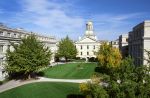 The University of Iowa is a major national research university located on a 1,900-acre campus in Iowa City in southeast Iowa, on the Iowa River near the intersection of U.S. Interstate Highways 80 and 380. Iowa is composed of 11 colleges, the largest of which is the College of Liberal Arts and Sciences, enrolling most of Iowa's undergraduates. The Henry B. Tippie College of Business, the Roy J. and Lucille A. Carver College of Medicine, and the Colleges of Education, Engineering, Law, Nursing, Pharmacy, enroll undergraduates, and with the Colleges of Dentistry and Public Health provide graduate education in conjunction with the Graduate College.
University of Northern Iowa

Contact:

1227 West 27th Street




Cedar Falls, IA 50614

Phone:

(319) 273-2311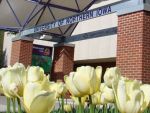 UNI offers the best of both worlds – a large university experience with a small college atmosphere – where you can really stand out and excel. It's a great place to start your college career, finish in four years, and be prepared for success in the real world.